Demographics of Florida
From Wikipedia, the free encyclopedia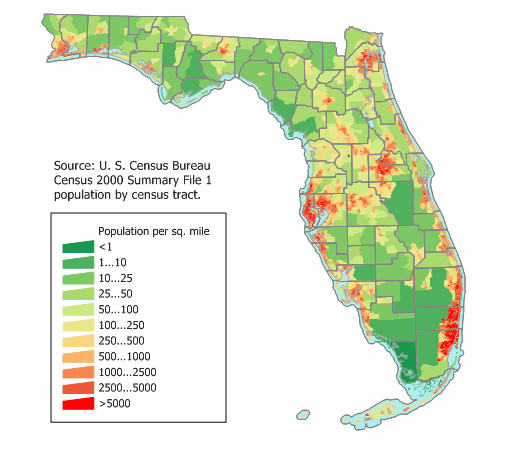 Florida Population Density Map

The Demographics of Florida is undergoing a dynamic change. As the third most populous of the states, and currently the fastest growing state. It contains large numbers of people from a wide variety of ethnic, Race (classification_of_human_beings)" title="Race (classification of human beings) racial, national, and religious backgrounds. The state continues to attract significant numbers of immigrants, and continues to grow dramatically in over-all size. Its population is expected to double between 2000 and 2030.
Florida has a majority ethnic group, with approximately 65% considered White. There are many national communities in the state, particularly Cubans who migrated there during the past century to the southern end. Spanish is said to be the state's "second most spoken language", especially in Miami-Dade County area.
Demographers have speculated that Florida will have a Hispanic majority by the year 2035, due to large-scale immigration and birth rates of Hispanic immigrants outdone non-Hispanic groups.
Florida's population stands at 18 million people, making it the fourth most populous state in the United States, exceeded only by California, Texas, and New York.

Racial Makeup

Demographics of Florida

By race

White

Black

AIAN*

Asian

NHPI*

2000 (total population)

82.45%

15.66%

0.75%

2.11%

0.16%

2000 (Hispanic only)

15.94%

0.74%

0.14%

0.09%

0.03%

2005 (total population)

81.47%

16.31%

0.84%

2.52%

0.18%

2005 (Hispanic only)

18.48%

0.87%

0.21%

0.11%

0.04%

Growth 2000–05 (total population)

9.99%

15.93%

23.95%

33.09%

29.08%

Growth 2000–05 (non-Hispanic only)

5.43%

15.23%

15.67%

32.55%

24.49%

Growth 2000–05 (Hispanic only)

28.99%

29.93%

58.98%

45.89%

45.66%

* AIAN is American Indian or Alaskan Native; NHPI is Native Hawaiian or Pacific Islander
According to the 2005 census, the racial distributions are as follows; 63.1% White, 16% African-American, 2.1% Asian American, 1.4% others (American Indians), and the remaining 18% are Hispanics or Latino (of any race). Florida has one of the largest African-American populations in the country, but ranks the second highest Latino population in the East coast outside of New York state and Florida's Asian-American population has grown in high rates in the 1990s, the majority being ethnic Chinese, Filipinos and Vietnamese settled in the Gulf Coast. The state has a few federally recognized American Indian tribes, like the Seminoles in the southeastern part of the state.
Florida's Hispanic population includes large communities of Cuban Americans in Miami (mainly from refugees fleeing the Castro regime) and Tampa, Puerto Ricans in Tampa and Orlando (the 2nd largest Puerto Rican community after New York city), and Central American and Mexican migrant workers in inland West-Central and South Florida, like the Lake Okeechobee area. The Hispanic community continues to grow more affluent and mobile: between the years of 2000 and 2004, Lee County in Southwest Florida, which is largely suburban in character, had the fastest Hispanic population growth rate of any county in the United States.
White people of all ethnicities are present in all areas of the state. Those of British and Irish ancestry are present in large numbers in all the urban/suburban areas across the state. There is a large German population in Southwest Florida, a large Greek population in the Tarpon Springs area, a sizable and historic Italian community in the Miami area, aging Russian Jews established a community in Miami since the 1930s with a larger representation of American Jews living in Miami Beach, and Canadians both English and French speaking groups from Canada created a large retirement and "snowbird" community in Fort Lauderdale and West Palm Beach since the 1970s. [citation needed]
White Floridians of longer-present generations in the culturally southern areas (see Southeastern United States about their links to their Dixie/non-Yankee origins) of inland and northern Florida. Native white Floridians, especially those who have descended from long-time Florida families, affectionately refer to themselves as "Florida crackers." Like all the other southern states, they descend mainly from Scots-Irish as well as some British settlers, and even some evident French and Spanish heritage going back 300 to 400 years.
Religion
Florida is mostly Protestant, but Roman Catholicism is the single largest denomination in the state. There is also a sizable Jewish community, located mainly in South Florida;. Florida's current religious affiliations are shown in the table below:
Protestant, 40%

Baptist, 9%
Methodist, 6%
Pentecostal, 3%

Roman Catholic, 26%

Jewish, 3%

other religions, 3%

non-religious, 16%